Women's Participation in Tourism Industry: Is equal participation a distant dream?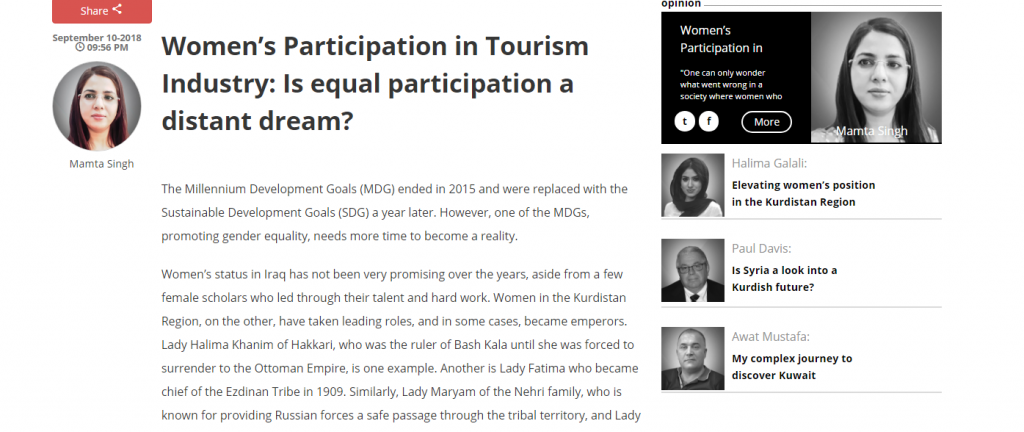 An article by Dr. Mamta Singh, Chairperson and Lecturer at Business Administration Department was published on Kurdistan 24 TV platform on 11th September 2018… Enjoy reading the article below..
Women's Participation in Tourism Industry: Is equal participation a distant dream?
The Millennium Development Goals (MDG) ended in 2015 and were replaced with the Sustainable Development Goals (SDG) a year later. However, one of the MDGs, promoting gender equality, needs more time to become a reality.
Women's status in Iraq has not been very promising over the years, aside from a few female scholars who led through their talent and hard work. Women in the Kurdistan Region, on the other, have taken leading roles, and in some cases, became emperors. Lady Halima Khanim of Hakkari, who was the ruler of Bash Kala until she was forced to surrender to the Ottoman Empire, is one example. Another is Lady Fatima who became chief of the Ezdinan Tribe in 1909. Similarly, Lady Maryam of the Nehri family, who is known for providing Russian forces a safe passage through the tribal territory, and Lady Adela, the famous ruler of Halabja. These are a few examples of the rights and prestigious status women enjoyed in Kurdish society.
Nonetheless, it is important to note that the present situation of Kurdish women is much different if we compare it with the past. For example, since 2005, a 25 percent quota has been enforced in the Iraqi Parliament for women. Despite this quota, women are underrepresented at the local and national government levels. In the Kurdistan Region's case, this quota was increased from 25 to 30 percent in 2009. In the currentparliament, 36 out of 111 members are women, which is approximately 32 percent. One can only wonder what went wrong in a society where women who enjoyed equal rights now rely on a quota which still does not represent them adequately.
The condition of women in political, social, and economic aspects is better than the rest of Iraq as revealed by various studies on the Kurdistan Region at the national and international level. To substantiate this, Iraq's 2014 Human Development Report presents a gender inequality index which shows that Kurdistan stands at 0.41 on the index compared to Iraq which is 0.55. These studies rightly mention that the improvements at the top have yet to trickle down. But if we take a closer look at women's participation at the micro level, say a specific sector of society, the picture might not look as rosy. Let's examine the hospitality industry. According to statistics by the Kurdistan Region's tourism industry, in 2015, the tourism sector had a significant gender gap compared to other countries.
The number of employees at both the administrative and service levels shows a wider gender gap. For instance, if we examine Erbil governorate, only 11.1 percent of women are participating at the administrative level compared to male workers. At the service level, the number is exemplarily poor—participation of female workers is 7.7 percent. In Sulaimani governorate, female involvement in the administrative level is 7.8 percent, while at the service level it is slightly better than Erbil at 15.6 percent. Among the three governorates, Duhok is comparatively better. Women's participation at the service level is 20.4 percent. However, at 9.6 percent, the administrative level is not much different than the other two governorates.
The tourism sector has a promising future as it is the fastest growing industry in the world. The Kurdistan Regional Government says it plans to achieve a seven percent growth in the Region's tourism sector and, in fact, invested 6.3 billion dollars between 2006 to 2013. Kurdistan's tourism sector is expected to provide the leading source of jobs for young people.
There are 12 private and 13 public sector universities educating approximately 1.15 million students in the Region. Universities should uncover the obstacles that are preventing women from accessing the same opportunities as men to fill the gender gap mentioned above. They should also offer short- as well as long-term courses to women already in the industry, in addition to sector-specific classes for first-year students, so they can achieve higher positions. Nonetheless, Kurdish culture is very hospitable and, therefore, if we focus on tourism, it would contribute a vital part to Kurdistan's GDP.
Dr. Mamta Singh is Chairperson of the Business Administration Department at Komar University of Science and Technology in the Kurdistan Region.
The views expressed in this article are those of the author and do not necessarily reflect the position of Kurdistan 24.
Source:
http://www.kurdistan24.net/en/opinion/b8a74b8d-3fe1-4f34-81cd-b67fd0da4ad5