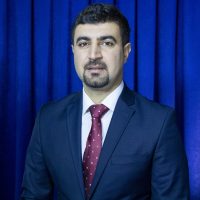 Aram Mohammed Kader
Aram Kader Mahmood (Aram Kokoy) holds MA in Interdisciplinary Studies (Applied Economics, Political Science, Sociology) from Oregon State University, post-baccalaureate in Managerial Economics from Oregon State University, and B.Sc. in Economics from University in Sulaimani.
Aram has two years of teaching experience, prior moving into teaching, he worked for several NGOs and Erbil Chamber of Commerce as a research consultant. He also held many managerial positions in several UNDP, GIZ, and Handicap International funded livelihood projects in the region.
In 2016, Aram worked at Middle East Research Institute as Junior Research Fellow, his research interest includes; Development Economics, Political Economy, Labor Market, and Refugee.
Other Members